THE PIONEERS
CLARA ROCKMORE // 1928
Though electronic music was uncommon in formal music settings at the time, Clara Rockmore (9 March 1911 – 10 May 1998), the classically trained Lithuanian virtuoso with perfect pitch, performed as a soloist with the New York Philharmonic, the Philadelphia Orchestra, and the Toronto Symphony with her theremin, one of the very first electronic instruments. She mastered the instrument and participated in its design, helping its inventor Professor Theremin fine-tune earlier models to improve range and precision. Wowing audiences around the world, she ushered electronic music to concert hall prestige. "I had to make – and then meet – my own standards; I had to win the public over into thinking of the theremin as a real, artistic medium," Rockmore said.
DAPHNE ORAM // 1949



British composer and inventor Daphne Oram (Born 31 December 1925) was aged 18 and armed with a passion for sound, music and electronics when she started work at the BBC as a sound engineer. With many of her country's men serving in the second World War, she began her career in radio broadcasting in the early '40s. Galvanized by the ongoing developments in audio technology, she devoted much of her free time to exploring new ways to make sounds with electronics. One of the founding figures of the BBC's Radiophonic Workshop, she was one of the earliest British composers to produce electronic sounds and compose from field recordings – Musique Concrete, the ancestry of today's electronic music. In 1959 she opened her own Oramics Studios for Electronic Composition dedicated to the drawn sound technique she would spend her life developing.

BEBE BARRON // 1956

Bebe Barron (June 16, 1925 – April 20, 2008) was an American composer of electronic music. Her work (with her husband Louis) defines one of the most idiosyncratic tape music movements in history. For a wedding present, they were given one of the earliest tape recorders using magnetised plastic tape. They founded one of the first private electro acoustic studios in 1949 in Greenwich Village, where they recorded artists like Tennessee Williams to John Cage reading their work. By 1956, this pioneering duo had created the world's first electronic film score for Forbidden Planet, made entirely from treated "bleeps blurps, whirs, whines, throbs, hums, and screeches" generated by their own home made electronic circuits. The Barron's practice of layering manipulated sounds from several different tape machines can be seen today in the multi-tracking practices so fundamental to modern recording studios.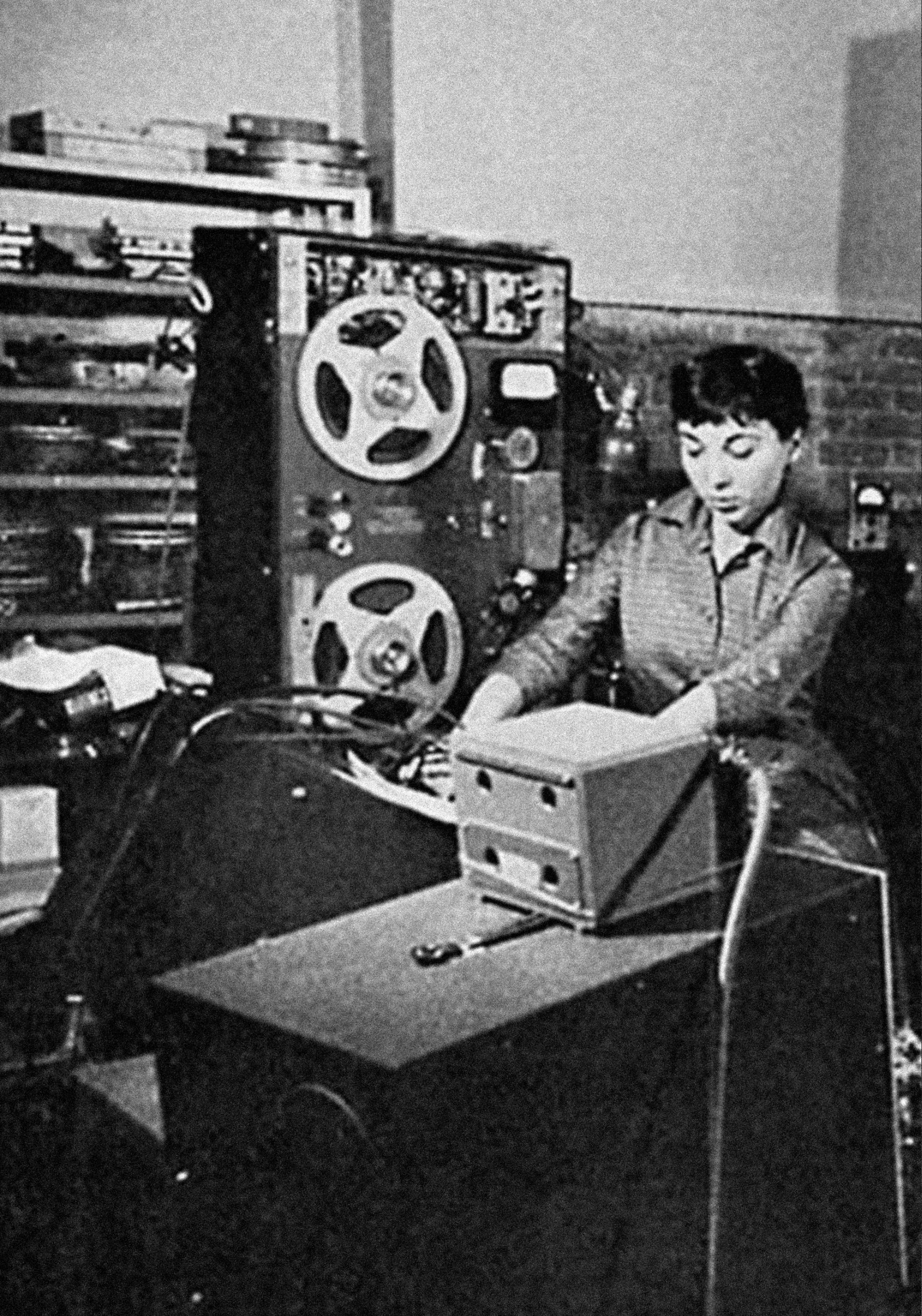 PAULINE OLIVEROS // 1959


Composer and accordionist Pauline Oliveros (30 May 1932 - November 24, 2016) began exploring tape and electronic music techniques in the late 50s. A founding member and central figure of the influential San Francisco Tape Music Centre with Ramon Sender and Morton Subotnick, her compositions introduced meditative and ritualistic practices while exploring deep, existential ideas. Gender inequality would be a theme that she addressed tenaciously. An essay she wrote for the NY Times in 1970 started with a provocative question – "Why have there been no 'great' women composers?" Lifting the veil on gender bias and societal expectations of domestic compliance, she worked as she says "To create an atmosphere of opening for all to be heard, with the understanding that listening is healing."
DELIA DERBYSHIRE // 1963

The British composer and mathematician Delia Derbyshire (5 May 1937 – 3 July 2001) worked at the BBC Radiophonic Workshop and reached true cult-hero status with her electronic arrangement of the Dr Who Theme in 1963, one of the first entirely electronic music pieces used on television. Derbyshire brought the early electronic techniques of musique concrete and tape manipulation to a wider audience. The air raid sirens she heard as a child during the bombings of Coventry where she was born served as her inspiration, her own voice as an instrument, and she would often use a green lampshade to make music with.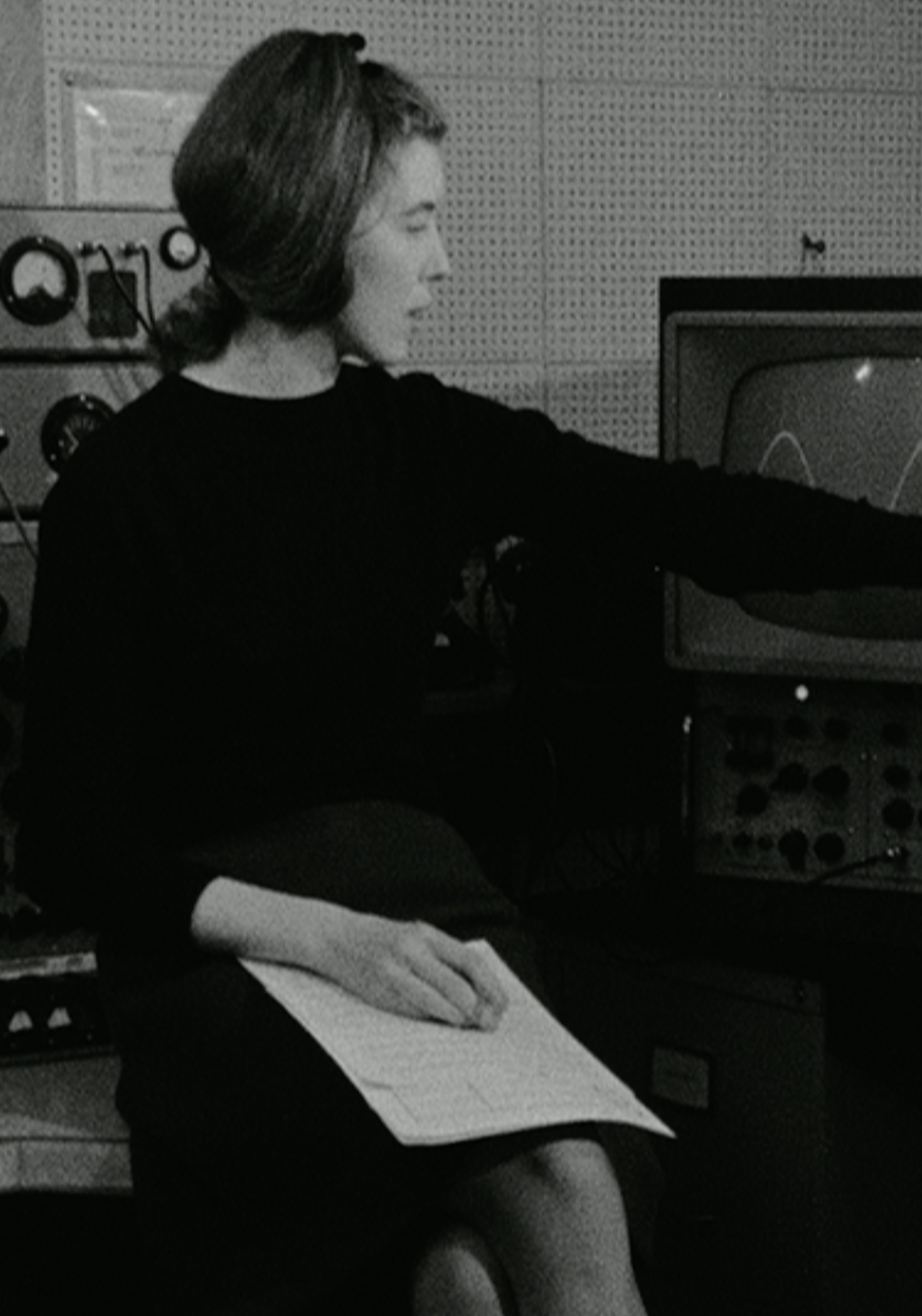 MARYANNE AMACHER // 1967


Maryanne Amacher (February 25, 1938 – October 22, 2009) was an American electronic composer and sound artist with a reputation for overwhelming volume and a love for science. A student of Karlheinz Stockhausen and a collaborator of John Cage and Merce Cunningham her work anticipates some of the most important developments in media, sound and installation arts. She is best known for working extensively with psychoacoustic phenomena in which the ears themselves produce audible sound.
ELIANE RADIGUE // 1970
French composer Eliane Radigue (born January 24, 1932) first discovered electronic music on a radio show in the 50s. Shortly thereafter, thanks to a chance encounter she began an apprenticeship with Pierre Schaeffer and Pierre Henry, founders of musique concrète. When she started to make her own work, she developed a particular interest in tape feedback technique. Using feedback, tape loops, and beginning in the 70s, the ARP 2500 modular synthesizer, Radigue's haunting long duration compositions are expressions of her deep reflections on sound and listening.
Radigue currently lives in France.


SUZANNE CIANI // 1976
Suzanne Ciani (born June 4, 1946) is a five-time Grammy award-nominated composer, electronic music pioneer, and new age recording artist. While in grad school in Berkeley, Suzanne became entranced with the ability to produce music with a machine, and devoted herself to the Buchla synthesizers for the next two decades, pioneering live electronic performances in quadrophic sound. Alongside a successful artistic career, she was also responsible for scoring TV spots and crafting iconic sound bites for some of America's largest corporations throughout the '70s and '80s. The sound effect of a Coca-Cola bottle being opened and poured is one of her most famed achievements. Ciani was also the first woman to score a major Hollywood film (Lily Tomlin's 'The Incredible Shrinking Woman' in 1981).
Ciani currently lives in California.
LAURIE SPIEGEL // 1986
Laurie Spiegel (born September 20, 1945) is an American composer. She grew up playing guitar and lute. As a music student and fledgling composer in New York at the end of the 60s, Spiegel fell in love with analog synthesizers at first sight, or rather, first sound. In 1973, she starts working at Bell Labs, learning to program that era's giant computers. One of Spiegel's composition is the opening cut on the Golden Record, a disc that accompanied both Voyager probes on their journey across the solar system and out into the great interstellar beyond in 1977. In 1985 she buys herself a Mac 512k and immediately wants to push sounds around with the mouse. She develops Music Mouse, a groundbreaking computer program that turns the Mac itself into a musical instrument, combining programming and composing into a single process. Music Mouse quickly turns into an in-demand application, among the earliest Music Software available to consumers.
Spiegel currently lives in New York.